Wednesday, November 30, 2011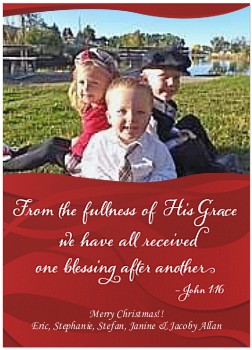 His Grace Alone Christmas

Posted by

Eric Allan Family
at 10:09 AM
1 comments


Links to this post

This was a great Turkey Day this year! We were finally able to spend thanksgiving again with family and it was so nice. We spent Thanksgiving this year with the Allan family down in Marysvale. We woke up at home thanksgiving morning and drove down to marysvale and then helped finish up with the dinner. The best part of the Allan feast are the pies. We believe in there being a pie for everyone. The picture of the pies that was taken doesn't even show all the pies that we had. Insane? Yes, and we love it. You just have a sliver of every pie and then 2 hours later you have some more! What a great day thanksgiving!
We were able to spend all weekend there and we went to the elementary gym and played basketball together and Eric and Stephanie woke up at 5 o'clock friday morning and went to the walmart in richfield. They were having a deal on the motorized Jeeps and so we got one for Jacobys birthday that is coming up in a week and a half! It was fun to do some shopping together and get movies for $1.96 each. It was also free babysitting and a great date for the two of us to have together. We ended our little holiday trip with an outing to Pizza Hut. Richfield has one of the only Pizza huts in the state where you can sit down and eat there. All other places are "to go" only. So the kids love going to Pizza Hut at Grandma Allan house.href="http://2.bp.blogspot.com/-pY8a5niTeF4/TtZloa2seqI/AAAAAAAAAgU/8_n90uOcKUI/s1600/DSCF0274.JPG">

That Sunday evening we Decorated the Christmas tree together as a family. We bought new ornament this year and got rid of our firt set of bulbs ever. Traded out the breakable bulbs for the non breakables. Tree turned out great.


Another thing that happened over this Thanksgiving weekend is we finally became members of YouTube!!! We made our own video of the Allan Christmas Lighting 2011! Click on the link if you dare!
Posted by

Eric Allan Family
at 9:06 AM
0 comments


Links to this post
Friday, November 18, 2011

First and for most we want to give a big shout out to those who are able to update their blogs on an almost daily basis. We think about it on an almost everyday basis but finding the time right now is difficult!
At the start of the Halloween season (september end of august) Stefan said he wanted to be a pirate. Well the costume that happened to fit Jacoby this year was stefans old pirate costume from when he was 2. Stephanie then said that the whole family was going to be pirates this year! Janine absolutely refused to be anything but a princess. So stephanie said that the whole family will still be pirates and Janine will be the princess that we have captured! This was a great plan until October rolled around and Stefan changed his mind and wanted to be the blue ninja from last year. OH well saves us money right? Stephanie's plan didn't turn out. the only one who happened to be a pirate was Jacoby, but a cute pirate he was! Stefan was the blue ninja, Janine was sleeping beauty. The whole day was fun. In the morning Stephanie and the kids went to the elementary and watched Stefan walk around the school halls for his parade and took pictures.
Then he went to a carnival. Later Stephanie took all the kids to the school carnival. Then we came back home and decorated the back of the Armada for the trunk or treat. The kids always enjoy this. They get to go through the house and pick out what they want to put in the car. This is the first year Eric and Stephanie didn't dress up. Excuse no.1 we had no time to get dressed. Eric got stuck at work all day and the trunk or treat started at 5. Eric pulls into the driveway at 4:55 runs inside for a fresh shirt and good smelling stuff and we left. The trunk or treat was a lot of fun, but different than what we were used to in Pleasant Grove. In PG, all the kids would run crazy going from car to car multiple times and wouldn't stop until all the cars were out of candy! Here in Salem, we were the ones going crazy trying to chase kids down to get them to take our candy and they wouldn't because they said that they had already been to our car! Eric and Stephanie put the candy in their bags and told them not to tell their parents!!
We had a great time!



This year we also did pumpkins of course! This is always an adventure as none of our kids will stick their hands into the pumpkins and rip out the guts! The love to carve and get so excited, but they refuse to stick their hands in there...maybe next year. Stefan and Eric teamed up and made the cool scary one. Janine made one with her name on it and Stephanie and Jacobys was the spooky face. good times.
Posted by

Eric Allan Family
at 5:40 AM
0 comments


Links to this post